The Wolf apartment is an apartment in Düsseldorf currently used by the Wolf family.
The apartment was first bought by Arno Brandner, because he needed a place to study. Eventually, Arno's cousin Matthias Brandner and his family moved in. Eventually they left for New Zealand, and only their daughter Lydia Brandner stayed behind. But eventually she followed them. The apartment was then empty, and only used for a few days by Philipp zu Hohenfelden, because he was hiding from the police. He and his wife Nicola von Lahnstein wanted to leave Düsseldorf and got to South America to start a new life there. But just as they were about to leave, Nicola got sick, and the police found them. Philipp got arrested. Some time after that, the Wolf family came to Düsseldorf and needed a place to stay. Eventually they bought the apartment and have occupied it since then.
Living room
Edit
This big room combines a living room, the kitchen and the dining table and also leads to Kim's room, upstairs, to some other rooms, and out of the apartment as well.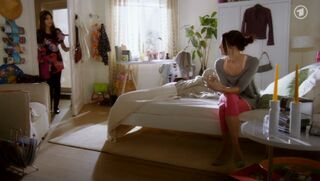 Marlene's room
Edit
Currently the room is used by Marlene von Lahnstein, formerly by Kim Wolf but before it was used as an office by Arno Brandner, when the apartment was still in the hands of the Brandner family.
Residents
Edit
Current Residents
Edit
Former Residents
Edit