Mateo

Biographical information
Gender
Male
Title
Monseñor (Monsignor)
Occupation
Pastor
Current residence
Palma, Mallorca, Spain

Monseñor Mateo is a pastor living in Palma, on the Spanish island Mallorca, and working in the St. Stephen church. He is the superior of the priest Jan Brandner, and also spends time at the youth center where Emilio Sanchez and Timo Mendes spend a lot of their time. Timo's father Ricardo Mendes lends great financial support to the youth center.
Monseñor Mateo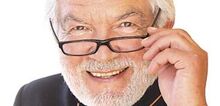 Claus Wilcke
3867 (23.06.2011) - present