Ludwig von Lahnstein was a Count von Lahnstein, son of Dietrich von Lahnstein and Wilhelmine Baxter. He was rejected by his father because he wanted to marry a maid, Madeleine von Lahnstein, and was cut off of the Lahnstein fortune. He had five children with Madeleine, Hagen, Sebastian, twins Tristan & Helena and Rebecca. His birthday is in early February.
At one point he was said to have been lost at sea and was considered dead by the rest of the family for 15 years. Madeleine was taking care of the children until her death, at which point Sebastian took over as the eldest, since Hagen who was actually the eldest abandoned them. Ludwig was actually alive in South America, sitting in jail. Andi Fritzsche got locked up in that same jail once, and there he met Ludwig. When Andi got free and returned to Düsseldorf, he met Helena and started spending time with her. By looking at the photo of Helena's father, they figured out that he was still alive. The two along with Tristan went to Argentina together and managed to free Ludwig, who was sitting in a jail for a crime he didn't commit.
After Ludwig's return, Carla von Lahnstein decided that she wanted to leave Düsseldorf with her fiancée Stella Mann, and she transferred the control over the Holding to Ludwig.
Family Tree
Edit
Ludwig von Lahnstein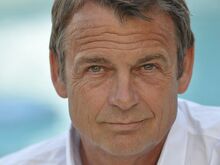 Krystian Martinek
3531 (21.12.2009) - 4267 (23.04.2013)