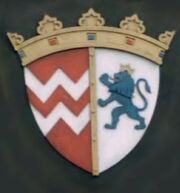 The Lahnstein family is an aristocratic family whose main residence is Königsbrunn. Various family members have been sometime residents of Düsseldorf.
The Lahnsteins have formed several companies over the years. For a long time, the Lahnstein Holding was the sole company of the Lahnstein family. But in 2010, the company had a money crisis and they were forced to sell parts of the company, of which Tanja von Lahnstein got the Lahnstein Real Estate Department, and with that the control over the Holding, and Ansgar von Lahnstein eventually got the Lahnstein Bank.
Because Ludwig did not have enough money to form the company, he wanted to put a mortgage on castle Königsbrunn. But it turns out that the entire south wing of the cellar was infected by a wall-destroying fungus. Ansgar decided to pay for the clean-up and repairs at the castle with some of the money intended for his son's future. As thanks Ludwig offered Ansgar cooperation in a new company Ludwig was forming, on that would deal with wood from the Lahnstein forest, Lahnstein Enterprises.
Eventually, Tanja and Sebastian von Lahnstein won half of the company from Ludwig by using Tanja's money to help the company. This also meant that the Real Estate Department was now under Lahnstein Enterprises.
In the beginning of June 2011 a fire destroyed much of the forest, leaving Lahnstein Enterprises unable to deliver the wood to their contractor, Yakamoto from Japan. The head of the family, Ludwig von Lahnstein, was accused of arson and sent to jail for a short while, which was the reason why the insurance refused to pay.
After his release, Ludwig called the family together and announced the formation of a board of all counts and countesses von Lahnstein that would lead the Lahnstein Enterprises, but if any refused, he would sell the company to Yakamoto. At first everyone except Ansgar agreed, and Ludwig signed the contract with Yakamoto in front of Ansgar. The latter couldn't believe it and tore the contract up. With that he decided to cooperate with Ludwig and so everyone agreed to form the board, but signing the contracts was delayed due to a car accident in which Philipp zu Hohenfelden was seriously injured.
Community content is available under
CC-BY-SA
unless otherwise noted.