Kim Wolf

Biographical information
Gender
Female
Birth
September 1993
Nickname(s)
Kimmy
Current residence
Wolf apartment
Düsseldorf, Germany

Kimberly "Kim" von Lahnstein is the extramarital daughter of Viktoria Wolf and Ansgar von Lahnstein, but was raised by Viktoria and her husband Thomas as if she were Thomas' own child. She used to be Tanja von Lahnstein's assistant.
Before Kim was born, her parents were going through a rough time. With their marriage having so many problems, Viktoria had a one-night-stand with Ansgar von Lahnstein, whom she thought she would never see again, and she got pregnant that night. The birth of Kim helped bring Viktoria and Thomas closer together, which might have prevented a divorce. She never told her Kim or husband that Kim isn't Thomas' child because she was afraid it would ruin their marriage.
Because of her father Thomas' job as a forester the family moved around a lot. They stayed in Offenburg quite some time before coming to Düsseldorf.
The family came to Düsseldorf because Kim's older half sister Marlene was marrying Hagen von Lahnstein, Ansgar's cousin. While in Düsseldorf, Kim saw an opportunity for a job, and applied as Tanja von Lahnstein's assistant. She eventually got the job, along with a concurrent, Jessica Stiehl. While spending time at the castle, Kim started liking Ansgar and started seeing him more. For reasons unknown to Kim, her mother strongly opposed her seeing Ansgar so much. Kim often had problems with her family during this time, and one time she decided to run away to scare her parents a little. She asked her friend Rebecca von Lahnstein for a hiding place, and Rebecca brought her to a hut in the forest. That night Ansgar set the forest on fire, not knowing that Kim was living in the forest. While the firemen and other members of the family couldn't, Ansgar got to Kim's hut and brought her out alive but passed out from the smoke. The fire was eventually put out.
Since this incident, Kim liked Ansgar even more. She tried to get closer to Ansgar, who even offered her a job as his assistant, since she lost her job as Tanja's assistant. Eventually the two shared a kiss and were caught by Kim's parents. They threatened to send her to a boarding school, and so Kim ran away. She was missing for quite some time, her parents even thought she might have died because a girl matching her description was found dead, but luckily it wasn't her. After a while she finally returned to Düsseldorf, because she needed money. Eventually she went back to the Wolf apartment to find some money there, but was caught by her family and the decided to stay.
Kim Wolf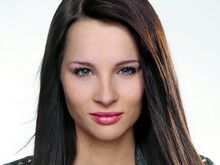 Nicole Mieth
3837 (10.05.2011) - present
Lisa Tomaschewsky
3820 (13.04.2011) - 3834 (06.05.2011)
Community content is available under
CC-BY-SA
unless otherwise noted.